How to Choose Your Dental Implant Provider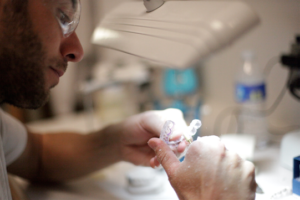 When choosing to undergo any surgery, selecting a quality health care provider can be essential for attaining successful results – and dental implants are no exception. The dental implant procedure is typically performed in two stages: implantation and restoration. During the first stage, the titanium post that serves as the tooth's root is placed. Next, after the post has fused to the jawbone, a custom-made dental restoration is attached to the implant.
Finding the Right Dentist
The role of a cosmetic dentist is usually to plan the placement of the post, custom design the restoration, and attach the restoration to the implant – steps that are integral to the fit, comfort, function, and aesthetics of the final outcome. When researching cosmetic dentists for your dental implant procedure, we recommend asking these important questions to determine the quality of the provider:
What is the dentist's educational background and training in regard to dental implants?
How often does the dentist work with dental implants?
What types of dental implants does the provider offer?
Are the porcelain crowns made in-house or outsourced to a laboratory?
Who will attach the porcelain crown to the dental implant?
We also suggest asking each cosmetic dentist for patient testimonials and dental implant before-and-after photos. With these resources you can read first hand accounts of patient experiences and have a visual reference for the results you can expect.
Why Choose True Dentistry for Dental implants?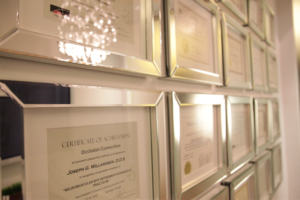 Our experienced dentists at True Dentistry take the time to fully understand your goals and make sure dental implant surgery is the best solution for you. First, your dentist will determine if you are a good candidate for dental implants. Then, if you are approved for the procedure, your dentist will create a custom-tailored treatment plan for reconstructing your smile. His experience and precision helps to provide tooth replacements that are comfortable, secure, and restore your ability to chew and speak with ease.
To create each restoration, whether it is a crown, bridge, or implant dentures, your dentist custom designs your tooth replacements with advanced 3D technology. Using this process he can match the color, size, and shape of the surrounding natural teeth or design a completely new set of teeth that fits your smile. All of our restorations are crafted in-house at the Esthetic Alliance Dental Lab, which increases the accuracy of our restorations and saves you valuable time. Finally, when your restorations are ready, your cosmetic dentist will attach them to the dental implants for exceptionally durable, comfortable, natural-looking results.
To learn more about dental implant surgery at True Dentistry, or to schedule a consultation with one of our cosmetic dentists, please contact us today.