Metal-Free Dental Implants
The True Dentistry team strives to provide patients with the latest advancements in dental care. By utilizing such developments as metal-free dental implants, we are able to offer superior dental results in the form of added strength and better aesthetics. The solution can be great for people with metal sensitivities or allergies, as the ceramic material does not corrode over time. With the CeraRoot® dental implant system, you can have a healthy, beautiful dental restoration that looks and feels like your natural teeth.
The CeraRoot® Dental Implant System
The CeraRoot® dental implant system is the only one of its kind that utilizes a crown made entirely of ceramic material. The CeraCrown® and non-metal root are both composed of zirconia – a durable, ceramic material. The system offers five differently shaped implants to appropriately replace each missing tooth. Each CeraRoot® combines the post and abutment into one zirconia piece, which lessens the risk of micro-movements and bacteria accumulation in the implant. The zirconia crown is then attached to the root for a permanent solution. If you are in need of multiple teeth replacement, you may benefit more from an all-ceramic bridge in addition to the dental implants.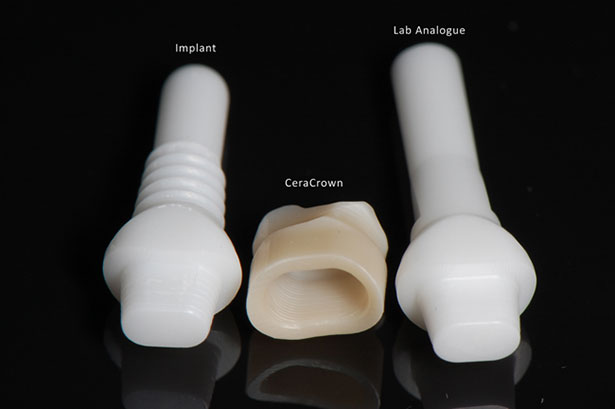 Benefits of Metal-Free Dental Implants
If you are a good candidate for dental implants, you may benefit from the metal-free alternative CeraRoot®. While traditional titanium implants are an effective solution to missing teeth, consider the advantages of opting for the ceramic CeraRoot® system:
Hypoallergenic: great for people with metal allergies
Aesthetically pleasing: if gums start to recede and the implant root is exposed, the ceramic material looks natural
Doesn't corrode: titanium gradually sheds particles, which can irritate the gums
Follows holistic health concerns: zirconia is derived from natural materials
Promotes better gum health: combined abutment and post reduces risk of bacterial growth
Typically requires only one surgery: the tooth extraction can be done at the same time as the implant placement
Contact True Dentistry
If you would like more information about the CeraCrown® non-metal dental implant system, please contact True Dentistry, and our experienced dentist will help you understand if the solution is right for you.