Implant Dentist in Las Vegas
Meet Dr. Preston Browne, DDS, FAGD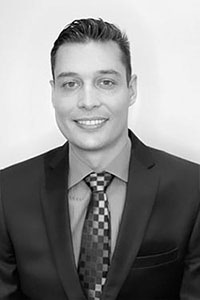 Preston Browne, DDS, FAGD is an experienced and highly-trained implant dentist from Rancho Cucamonga, California, and he is a vital member of our dental team at True Dentistry. He performs all types of dental implant procedures, as well as a broad range of other general, restorative, and cosmetic treatments, to replace missing or badly damaged teeth and create smiles that are full, beautiful, healthy, and functional.
Learn all about Dr. Bowne in the informative sections provided below, or contact True Dentistry to schedule an appointment:
Philosophy
Dr. Browne became a dentist to help others and he absolutely loves what he does. He enjoys being a part of the team at True Dentistry, transforming smiles, and connecting with his patients on a personal level. Every time he treats a patient, he strives for perfection by creating customized treatments and doing the best work possible—always considering the patient's unique needs and goals. Creating a comfortable, convivial environment is among Dr. Browne's top priorities when working with patients and he treats each individual like family. He describes his philosophy as patient-centric and caring—he always tries to do what's best for the patient. Dr. Browne also considers himself to be an active learner who is constantly evolving to meet demands and advancements within his field in order to better serve his patients.
Education & U.S. Army Service
Dr. Browne completed his undergraduate education at Loyola Marymount University in Los Angeles, graduating Magna Cum Laude in 2010. During his undergraduate studies, he served as a Teaching Assistant in Anatomy for two years. Dr. Browne then joined the U.S. Army and attended dental school at University of Southern California (USC) through the Army's Health Professions Scholarship Program (HPSP). While at USC, Dr. Browne was fortunate to study under Dr. Pascal Magne—the "Guru" of biomimetic dentistry. Dr. Browne graduated from USC with his D.D.S degree in 2015. He then served three years in the Army as a dentist in Fort Bliss, Texas. He is currently still active in the U.S. Army Reserves.
Continuing Education Coursework
In pursuit of his passion in implant dentistry, Dr. Browne has completed 300 hours of dental implant-focused continuing education coursework. These courses included the American Academy of Implant Dentistry's Maxicourse in Dental Implantology offered at the University of Nevada, Las Vegas School of Dental Medicine, in addition to 48 hours of DIgital Dentistry training. He avidly reads dental journals and enjoys participating in online continuing education courses.
Awards & Certifications
U.S. Army Commendation Medal
Currently in the process of becoming a Fellow of the Academy of General Dentistry (FAGD)
Professional Memberships
American Academy of Implant Dentistry (AAID)
Fellow of the Academy of General Dentistry (FAGD)
Service Work
In dental school, Dr. Browne was President of the Dental Humanitarian Outreach Program. He took humanitarian trips to both Jamaica and Kenya.
Personal Interests
Dr. Browne is an avid sports fan and loves anything related to the Angels, Rams, USC Trojans, and Lakers. He enjoys working out, reading biographies, being outdoors, studying dentistry, and spending time with family and friends.
Family
Dr. Browne is from Rancho Cucamonga, located in the Inland Empire of Southern California. He is grateful to come from an incredibly hard-working and patient family. His parents made countless sacrifices to put him and his siblings first so that they could have a better life. Dr. Browne believes that he owes everything to his parents. His brother is a lawyer in San Diego, and Dr. Browne says his brother is one of the smartest people he's ever met—"He has forgotten more in life then I have ever learned." His sister is a nurse in the South, and he describes her as the most loving and caring person he has ever met—"She would probably give you a kidney if you asked nicely."
Q&A with Dr. Browne
Q. What inspired you to become a dentist?
I wanted to be in the healthcare field in order to provide for other people. I saw the trials, tribulations, and hoops my dad had to go through to take care of his teeth, and I thought it would be awesome to help provide dental care for people and change their dental cycle. If I can reach a patient early enough, I may be able to prevent them from going down a long road of dental work.
Q. What do you enjoy most about being a dentist?
I love the transformation process dentistry offers—it gives me the chance to change a person's smile and bite in a matter of days. I also love getting to know my patients and being a part of their lives. I also enjoy the constant evolution of the field—dentistry is in such an exciting time with technology. Every month or so something big hits the market that dramatically improves the way we can take care of our patients.
Q. As an implant dentist, what technology do you use? What is your favorite piece of technology?
I am trained in the CEREC® system and other essential technologies associated with state-of-the-art implant dentistry. I guess my favorite piece of tech is the 3D printer because it is just so cool. I have a 3D printer at home that I use to print surgical guides.
Q. What do you consider to be the most significant breakthroughs in dentistry? And why?
The easy answer to this question is anesthesia—imagine the limitations a dentist would have if patients could feel everything during treatment. My second answer would have to be dental implants. Specifically, dental implants have vastly improved the quality of life for denture wearers because we can now offer implants to help anchor dentures for added stability, functionality, and security.
Q. What are your favorite procedures? What areas of dentistry are you most passionate about?
Dental implants—I love the drastic difference of having a missing tooth versus having a tooth. I think there is so much value in "putting teeth back in the mouth". Oftentimes, dentistry is about taking away—removing teeth, reducing parts of teeth for crowns, removing fillings and decay—and I love being able to put teeth back in.
Q. What led you to practice dentistry in Las Vegas?
My wife and I moved here so that she could attend school. I wanted to work under Dr. Joe at True Dentistry because he is one of the best in the business!
Q. What do you enjoy most about working with your team at True Dentistry?
It's the Army and athlete in me—I love being part of a group trying to accomplish a common goal. There's nothing better than rallying around each other and getting to achieve something.
Q. With so many dentists in Las Vegas to choose from, why should patients choose you?
I love what I do and I love providing the best care I possibly can. I lose sleep when something in dentistry doesn't turn out like I want it to.
Q. Are there any cases you are particularly proud of?
In the Army I did an anterior case that turned out really well. The patient had been wanting the treatment for a long time, but was unable to get it because they kept moving around for the Army. I worked really closely with my Army lab tech and the patient was so happy about the outcome that we all cried.
Q. Aside from dentistry, what else are you passionate about?
I am passionate about sports. I love competition. I think there are so many parallels between sports and life. I like to be outdoors and just enjoy every day as much as possible.
Q. Do you have any last words of advice for someone looking for a great dentist?
Go to someone who loves what they do and choose someone you can trust.