All-On-4® Implant Anchored Dentures – Teeth in a Day
If you are missing full areches of upper and/or lower teeth, you can eliminate the need for traditional dentures with a much stronger and more stable tooth replacement option known as the All-on-4® anchored denture procedure, available here at True Dentistry. The patented All-on-4® technique is designed to eliminate the need for messy dental adhesives and prevent dentures from moving and/or slipping along the gumline. With this procedure you can receive new sets of artificial teeth that are as close to permanent as possible, restoring both form and function with exceptional results. You will not need to remove your implant dentures for cleaning, and you will be able to eat all the foods you enjoy.
How Does the All-On-4® Technique Work?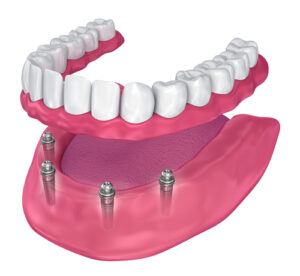 The All-on-4® anchored denture procedure uses four dental implants to attach each custom full-arch denture to the upper and/or lower jaw. The titanium implants are anchored to the bone, and will eventually fuse to the bone itself through a process called osseointegration, where they can ultimately become a permanent part of your mouth like natural teeth roots. Since the implants can often take full advantage of existing bone in patients who qualify for this procedure, there is typically no need for a bone graft. Full sets of dentures are anchored to the four implants, which give them significantly more stability without the need for a separate implant to replace each tooth. As a result, the All-on-4® implants tend to be a more cost-effective solution for missing teeth.
The procedure can often be completed in a single day, and most patients are able to resume normal daily activities the day after treatment. The results of All-on-Four anchored dentures can be permanent, giving you a natural-looking set of teeth that feel comfortable and do not slip along the gums.
Who Is a Candidate for All-On-4® Implant Dentures?
Individuals who are candidates for the All-on-4® method must be in good overall health, have healthy oral structures (remaining teeth, gum tissue, and bone), and possess adequate jawbone density/volume to support the necessary number of dental implants. To find out if All-on-4® is right for you, you must schedule a consultation at True Dentistry. During this appointment you will undergo a comprehensive evaluation with one of our skilled dentists to identify your specific dental challenges and needs, outline your goals, and develop a customized tooth replacement plan. If you are well-suited for All-on-4®, your dentist will explain the process and answer any questions you may have.
How Long Do All-on-4® Implants Last?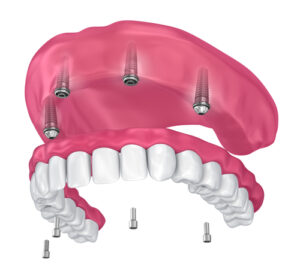 All-on-4® implant dentures and the dental implants that support them are intended to provide a long-lasting solution for missing teeth. The precise length of time your full-arch restorations last will depend largely on the material they are crafted from and how well you take care of them. With proper care, full-arch dentures made of high-quality materials can last up to 15 years or more. Since dental implants are fused with the jawbone, a successful implant should ideally last for a lifetime; however, complications can occur as a result of smoking, poor dental hygiene, untreated dental health concerns, or poor implant placement by an unskilled dentist.
At True Dentistry our experienced and highly trained dentists prioritize your safety, results, and the long-term success of your dental work. If you experience any problems with your dentures or implants, we encourage you to contact our practice as soon as possible so that you can receive prompt treatment. Early detection and treatment can help you avoid more serious and costly dental issues down the road.
How Much Do All-On-4® Implant Dentures Cost?
At True Dentistry the average price for All-on-4® implant dentures is between $16,000 and $22,000. Pricing for this procedure fluctuates based on each patient's treatment plan details. For this reason, it is important to make an appointment at True Dentistry to find out how much your implant dentures would cost. When calculating the cost of your All-on-4® treatment plan the following factors must be considered:
Whether you need implant dentures for your upper arch, lower arch, or full mouth
The material you choose to have your dentures fabricated from
The number of dental implants you require
Any treatments to improve oral health prior to the implant surgery
Any required tooth extractions or bone grafting
Anesthesiology fees
At the conclusion of your appointment, you will receive an itemized cost quote for your treatment. A knowledgeable member of our office team will review the quote with you, answer any questions you have, discuss accepted payment methods, and explain CareCredit® financing if you are interested. Third-party lender CareCredit® offers qualified applicants a variety of loan options and flexible payment plans designed to make paying for dental care more convenient and budget-friendly. We believe everyone deserves to have a healthy beautiful smile, and our team will do everything possible to help you reach your goals.
Contact True Dentistry
One of our experienced dentists at True Dentistry can meet with you for an initial consultation to determine if you are a good candidate for this advanced missing teeth replacement procedure. Please contact us today for more information, or to schedule a consultation.