With years of experience and exceptional patient results, Dr. Joseph Willardsen is often featured in various media sources for his expertise. Among the many television programs of which he has been a part, Dr. Willardsen has collaborated with The Doctors, an Emmy-winning daytime talk show about medical-related topics. To view the dental cases he has completed in collaboration with The Doctors, feel free to watch the videos below.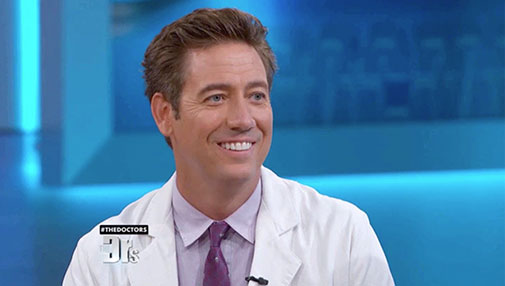 Link Between Pediatric Dental Health & Mental Health
Dr. Joe joins The Doctors to share his take on a new study from Massachusetts General Hospital that uncovers a link between early childhood emotional trauma and dental abnormalities.
Learn More
Woman Run Over by Two
Cars and Left for Dead (Part 1)
Jasmine was hit by two cars and left for dead until a driver stopped and called 911, saving her life. She sustained serious injuries to her body, head, and face and has endured a long and challenging recovery, which is far from over. The Doctors surprise Jasmine with a team of medical and dental professionals, including Dr. Willardsen, who have donated their services to help restore her health and appearance.
Learn More
Food Share's CEO Receives Total Mouth Makeover
Bonnie, President and CEO of the non-profit organization Food Share, undergoes a dramatic smile transformation with help from our dentists. Watch as our dentists use dental implants and porcelain veneers to give Bonnie a healthy, beautiful new smile that allows her to continue her work with renewed confidence.
Learn More
Military Wife Receives Major Smile Makeover
Lorie Leffler, who suffered from a severe case of periodontal disease, wanted to repair her missing or damaged teeth to surprise her husband, Staff Sergeant Matt Leffler, who was deployed in Kuwait at the time. Dr. Willardsen, along with a staff of 20 other professionals, performed the elaborate dental implants procedure to help Lorie restore the form and function of her teeth.
Learn More
Recovering Bulimic Gets Stunning Dental Makeover
After more than 20 years as a bulimic, Samantha suffered from several physical problems, the worst being her extensive oral damage. Her teeth and jaw would hurt; her gums would bleed; and her enamel was being eaten away by the acid from purging. At 35 years old, Samantha didn't want to live with the pain and unsightly appearance anymore, so she turned to Dr. Willardsen. He was able to give her a complete smile makeover, extracting her decayed teeth and replacing them with a new smile–a smile she never thought she'd see again.
Learn More
Hope for Teeth Grinding
Can injections cure teeth grinding? Dr. Willardsen revealed on The Doctors there is hope in this medical claim. If a patient is getting headaches or neck pain, can see wear on their teeth, or is not regularly wearing their night guard, they may benefit from BOTOX® injections into the surrounding muscles. This treatment can help prevent the jaw from clenching as hard and bring relief to the chronic symptoms of teeth grinding.
Gold Toothy Tabs
Would you consider using a toothpaste made of edible gold? The Doctors tests out these Bling! Toothy Tabs made by Lush Fresh Handmade Cosmetics – a chewable pill consisting of a few essential oils and beneficial ingredients, including edible gold, and designed to be used as an alternative to toothpaste. The panel consults with Dr. Willardsen for his expert opinion, who in turn questions the effectiveness of the gold on optimal oral health.
Learn More
New Ways To Extract Teeth
Using a new tool that extracts teeth by pulling them straight out of the socket rather than side to side, Dr. Willardsen joins The Doctors to discuss this revolutionary method for tooth removal.
Smile Makeover for Woman Addicted to Uncooked Pasta
After consuming raw macaroni addictively for 30 years, Tammy has suffered psychologically and sustained dental trauma. With the help of The Doctors, she now hopes to overcome her destructive habit and achieve a beautiful smile makeover courtesy of Dr. Willardsen.
Learn More
New Smile for Young Bacterial Meningitis Survivor
As an infant, Memphis was lucky to survive a severe case of bacterial meningitis. Although his recovery was miraculous, the infection destroyed the possibility of adult teeth and required the amputation of his arms and legs. Watch Memphis and his devoted father as they share their story on The Doctors and receive contributions from Dr. WIllardsen and other generous donors. Bionic prosthetics and a new smile open a new world of possibilities for young Memphis.
Learn More
Twin with Rapid Decay Gets Diagnosis and New Smile
Nicole's smile has been deteriorating for the last ten years. She and her twin sister, Kimberly, seek help on The Doctors to finally discover what has been causing Nicole's unusual dental condition. Watch as Dr. Joe and Dr. Ali work together to solve this health mystery and give Nicole a new smile!
Learn More
Dermal Fillers for the Treatment of Gum Recession?
Dr. Joe explains everything viewers need to know about treating the appearance of receding gums with dermal filler injections. While this treatment can add volume to the gum tissue for a more perfect looking smile, Dr. Joe explores whether this cosmetic quick-fix is the right choice for every patient.
Learn More
Contact True Dentistry
To learn more about Dr. Willardsen's Media Appearances, or to schedule an appointment, please contact us today.