Porcelain Crowns
Porcelain crowns can restore the natural form, function, and appearance of teeth that have been badly damaged. Whether the health of your tooth has been compromised by trauma or extensive decay, our Las Vegas cosmetic dentists can create a custom porcelain crown to beautifully rebuild and strengthen your tooth. Our advanced dental imaging technology allows our dentists to precisely design restorations that offer a superior fit and high-quality esthetics.
What Are Porcelain Crowns?
A dental crown is a meticulously crafted restoration that is placed over a vulnerable tooth to protect and enhance its strength and structure. Crowns can be used to repair chipped, cracked, broken, or decayed teeth that require extensive restoration. Highly versatile, they can serve to restore a single tooth, be fabricated to top dental implants with a natural-looking tooth replacement, complete a root canal procedure, or act as replacement teeth for a dental bridge. At True Dentistry, we utilize state-of-the-art technology to design our beautiful porcelain restorations.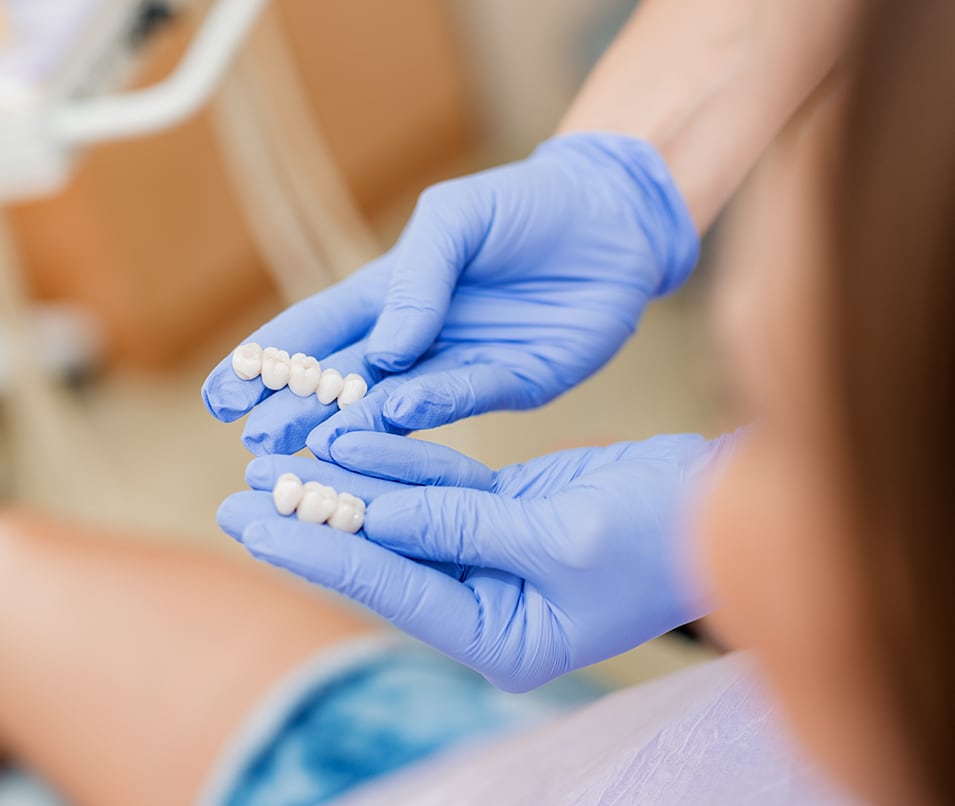 What Are The Benefits of Porcelain Crowns?
Porcelain crowns from our practice can offer the following advantages:
Beautiful, natural-looking results
Healthy tooth material is saved with conservative treatment
Customized fit is achieved using precise digital dental scans
The color and dimensions of your natural tooth are precisely matched
Restorations are fabricated from durable, stain-resistant, metal-free ceramic material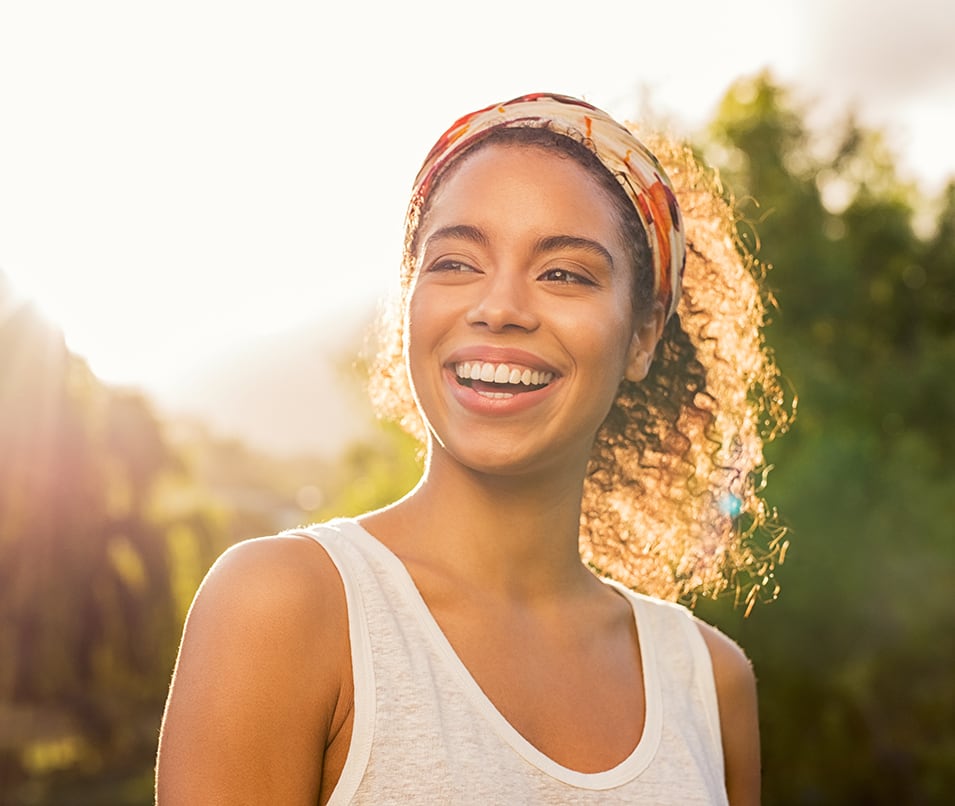 Results
View Gallery
How Long Do Porcelain Crowns Last?
When placed by a highly qualified cosmetic dentist, porcelain crowns are extremely durable and can often last at least a decade with the proper care. They are more likely to last many years into the future if you practice excellent oral hygiene and exercise caution when biting down on hard foods. That said, in order to keep your crowns functioning optimally, be sure to brush and floss regularly and attend your biannual routine exams
What Can I Expect During the Porcelain Crown Procedure?
Your dentist will first treat any disease or decay present in the affected tooth, completing a root canal procedure if necessary. Once all damage, disease, and decay have been removed, your dentist will ensure the tooth is fully prepared to accommodate a crown. They will then take a digital impression and enter the data into our dental imaging software to custom-design your new crown. Next, the design will serve as the blueprint to craft your new crown from precisely color-matched porcelain material. During your next visit, your dentist will place the crown over your tooth to check the fit and make any necessary adjustments. Once your dentist is satisfied with the fit, he or she will cement the crown in place to create a long-lasting bond.
What Results Can I Expect With a Porcelain Crown?
The majority of patients who choose porcelain crowns from our practice are impressed with the convenience and high-quality results we provide. With proper daily hygiene and regularly scheduled dental exams, porcelain crowns can last for decades. To see examples of the smile transformations that we have achieved for our patients, we invite you to view before and after photos of our work.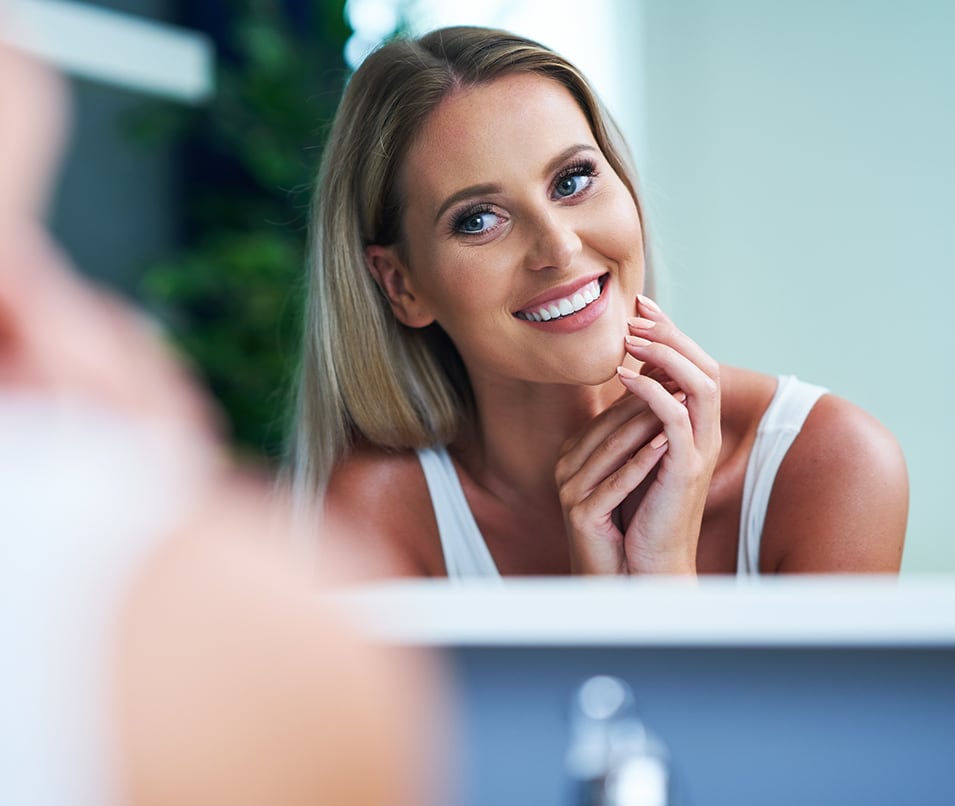 How Much Do Porcelain Crowns Cost?
While the cost of porcelain crowns at True Dentistry usually averages between $800 and $1,700, the final price will depend on several factors, including:
The number of restorations
Materials used to create the crowns
Whether associated treatments (i.e. dental implants, bridges, root canal therapy, or others) were part of the treatment plan
The location of the affected teeth
Whether sedation dentistry techniques are utilized
You will receive a detailed cost quote for your porcelain crown treatment after your consultation. In the meantime, please explore our dental financing options, which we have developed in order to make the payment process as stress-free as possible for each patient. Not only do we accept all major credit cards, but we work with two healthcare financing programs, LendingClub® and CareCredit®, to help eligible patients set up installments or other specialized payment plans.
Contact True Dentistry
If you are interested in porcelain crowns, we encourage you to contact our office to schedule a consultation with one of our dentists.