What Is the Best Method for Straightening My Teeth?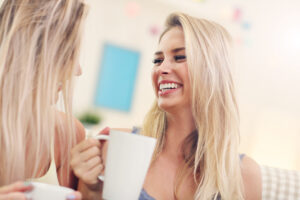 Your dream of a straight, symmetrical smile and a properly balanced bite can become a reality with the help of our experienced dentists at True Dentistry! Whether you are concerned about the appearance of crowded teeth, gaps between teeth, crookedness, or a misaligned bite, our state-of-the-art orthodontic options and/or cosmetic treatments can be customized to deliver the smile you have always wanted. Our treatment choices incorporate the latest techniques, technology, and materials modern dentistry has to offer. Based on a comprehensive evaluation of your teeth and oral health, as well as a discussion of your goals and priorities, your dentist can recommend the most suitable option(s) for your needs. Many of our orthodontic and cosmetic methods provide relatively quick, comfortable, and discreet straightening treatment and results that patients love:
Invisalign® – Invisalign is one of our most popular orthodontic treatments due to the comfort, speed, precision, and relative invisibility of the clear plastic aligners used to straighten teeth. A series of Invisalign aligners are customized using 3D scan technology to fit snugly and gradually shift teeth into proper position over time. This option is incredibly versatile and can resolve most types of orthodontic issues and bite concerns.
Clear Braces – Clear braces are an excellent alternative to traditional metal braces due to their enhanced comfort and aesthetics. When compared to Invisalign, clear braces are often a less costly option. Furthermore, clear braces may be an ideal choice for patients with more severe orthodontic concerns that cannot be treated with Invisalign.
Porcelain Veneers – Porcelain veneers offer the fastest results of our teeth straightening options. In as little as a few visits to our office, your dentist can custom-design these thin shells of durable porcelain to fit over the front sides of your teeth to conceal gaps and correct the appearance of misalignment with beautiful, long-lasting results. As an added benefit, porcelain veneers can also simultaneously improve the color, shape, and size of treated teeth for a comprehensive smile makeover.
Traditional Braces – Traditional metal braces offer our patients the most cost-effective option for straightening teeth. Modern brackets and wires are considerably more comfortable and aesthetically pleasing than braces of the past, and they can provide effective, efficient treatment for the full spectrum of orthodontic concerns. Patients who are not suitable candidates for Invisalign or clear braces—usually due to complex bite issues and/or severe misalignment—are encouraged to undergo treatment with traditional metal braces.
Are you ready for a straighter smile and a properly aligned bite? Contact True Dentistry to schedule a consultation with one of our experienced dentists to explore your options.