Dr. Willardsen Offers Smile Reconstruction for Skin Cancer Survivor on The Doctors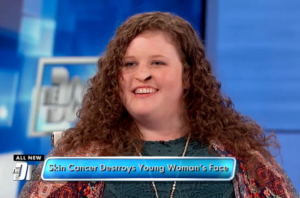 A tiny blemish began rapidly growing on Marisha's nose while she was a senior in college. What her doctor initially thought was a skin infection, turned out to be skin cancer―squamous cell carcinoma. The cancer spread very quickly and required immediate surgery. Two-thirds of her nose was removed and the surgeons found extensive internal cancer growth. Despite several subsequent surgeries and radiation treatments, Marisha's diagnosis progressed to stage 4 cancer and she was given a 20% chance to live. The cancer metastasized through the roof of her mouth, into the upper jaw bone, and to her teeth―all of which had to be removed to save her life.
Marisha now wears a dental prosthesis (called an obturator), to restore form and function to her nose, mouth, and teeth; however, she struggles daily with severe pain in her nose and mouth. Though she is grateful to be alive, she admits the changes to her appearance and quality of life have been incredibly difficult. Most of all, she just wants to be able to live and function as normally as possible. Marisha is now 11 months cancer-free.
Upon hearing Marisha's story of courage in the face of life-threatening medical struggles, The Doctors decided to help. In addition to providing facial reconstructive surgery and therapy sessions, The Doctors also told Marisha that Las Vegas cosmetic dentist Joe Willardsen, DDS of True Dentistry would be collaborating with her team of medical experts to rebuild a natural-looking new smile for her, free of charge.
Watch the full segment below and stay tuned to see the final results of Marisha's dramatic smile makeover on a later episode!